"Tootsie"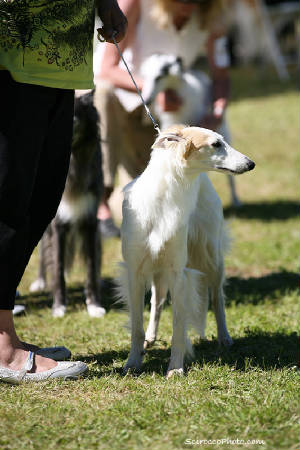 aka "Tootsie"
Allagante Hot Tamale (stats)
Sire = WindDancer Tocho Allagante
Dam= Kristull Undeniably Simone
Height: 20"
Weight: 26 lbs
Color: Clear gold
Markings: extreme white
DOB: 04/02/2008
MDR1 Clear
Titles: ISWS CH

Tootsie , at just over 1 year of age, won her first winners bitch at the NWFest 2009 speciality.Tootsie has some of the best shoulders and wonderful ease of movement I have seen in Silkens. Early in 2011 she and her new personal slave, Jane Taylor of Winsome Silken Windhounds, found each other and she now lives with Jane in Monroe, WA. Tootsie finished her ISWS championship under Jane in Feb 2011 including finishing the day with a BIS. Good job Tootsie and Jane.

Besides Tootsie having a lovely coat she has the most delightful sense of love that is so wiggly giggly that you can not help but smile at her and immediately fall in love. She loves to throw herself on her back and wiggles all over you in intense pleasure and fun.
Although Tootsie is barely 20" tall she has no idea that she is small. She runs with the bigger dogs and when she goes out racing she is all heart. Being last due to size never stops this little girl from giving her all. If all of my dogs had her heart they would win every race there was.
Tootsie is my little "Mafia Queen" as I call her because she has the funniest scariest little growl coming out of the cutest little body. She loves to tell everyone she has a treat and it is hers ( anyone can share her food but never a chewie) and the sounds that come out of her has even myself looking at where did they really come from since they couldn't have emerged from her.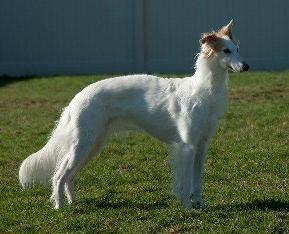 Tootsie now lives with her new best Silken friends Gucci and Breezy and many gorgeous Miniature horses. She is living the good life and enjoys her days fully with Jane. She is being spoiled daily which is my wish for all my dogs.