The "pile o pups" as you see below shows the huge size difference between the pups. Remember even the largest pup show is smaller then most pups in litters. Pups although may start small in life as these are will eventually catch up to normal sizes in matters of weeks.
Here is a wonderful Lymerick written for us by a Silken family friend.


The Sanders , to be quite specific
Love and raise Silkens oh so Terrific .
Mating Kam and Sabrina
Produced MANY Bambina
And their litter is more than prolific .

Now labor was just some days early
and Sabrina is such a sweet "Girlie".
Love & Nature were present
at this event effervescent .
Paul and Karen are blissful most surely .

Fourteen cute Silken puplets were born .
All are healthy so nothing to mourn .
Great Kam should have praise
and with pride , his tail , sways .
Our " Silken Fam'ly " these pups now Adorn .

Bounteous Blessings from Fox Glen are sent
that all problems you may circumvent.
Paul ,Karen , and Canines shall Thrive.
May Energy Good , there , arrive
and bring you the Joy you are Meant.

Humbly offered with " Indigo Love " and Tailwags of Happiness ,

Elise , Ron and the Fox Glen Fuzzlemuffets Four , Asti, Guinness, Riesling and MAGNUM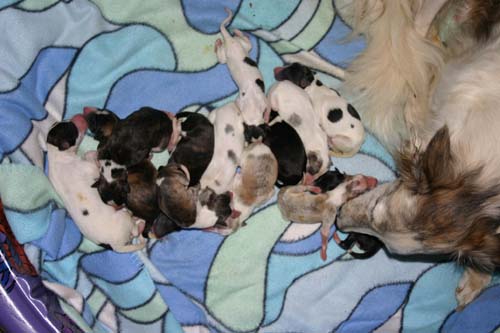 Even surrounded all over by the pups our Sabrina is a happy mom. Can you see the spots between her back legs? Yes that is another pup or two hiding out there. Mom only has 8 teats and since she has 14 pups we have to make sure all pups are getting milk.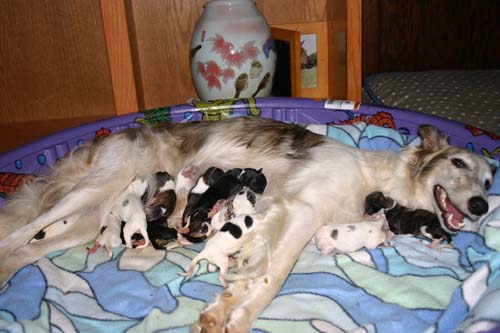 Well it is day 10 now. It has been a tough ten days. At least twice a day and in the beginnning 3 to 4 times a day we recorded their weights. We are now happy to say the smallest one weighs in at 280 grams ( 10 oz) and the largest is almost 700 grams which is about 1+1/2 lbs. All of them are greedy for the food and we are still nursing them from the bottles. Mom is doing well with nursing them but is running out of steam from taking care of them all. We help where we can, wiping them to help them pee and poop. With Paul and I working full time jobs we have little time for anything else these days. But it is rewarding seeing these little guys get bigger and bigger.

The one thing I regret is that my camera did not pick up the rich colors in the litter. Many look just black but only two seem to be a black brindle right now and others are showing a rich color of red brindle. We have several silver colors and some fawn silver brindles and some rich browns. We had only Irish Marked and white pups. Some have lots of white some less so. It is an interesting mix......
Enter content here